If you haven't heard about it yet, Bamba Forge is a knife-making project that you're going to want to know about. It's a collaborative project bringing knife makers to Uganda, where they teach citizens the craft and help bring down the unemployment rate.
Bamba Forge was started in 2013 by knife maker and S5E37 Forged in Fire contestant Tim Troyer of Sugarcreek Forge. "I was invited to be a contestant on Forged in Fire. The producer said I could mention Bamba Forge if I accepted," Troyer explains. "So I signed the contract immediately." Troyer competed against John Wigger, Ken Hall, and Michael Peterson; the men bonded over their shared love of knives and the potential for knife-making to change lives – both their own, and those of people less fortunate than them. "They were all interested in how our passion for knifemaking could be used to lift people out of poverty," Troyer explains.
In Uganda, the unemployment rate among people above 30 years of age is a gobsmacking 63%. Working through Bamba Forge, Troyer, and his team recruit Ugandans and show them how to make knives. These fixed blades are then sold to enthusiasts all over the world. "There is no virgin tool steel for sale there, so we hammer truck springs [5160 steel] into thinner stock and forge the knives from that," Troyer tells us. "The guys gang hammer like champions and are becoming very good knife makers." Ebony and African mahogany are the typical handle scale materials, and the leather sheaths are hand stitched in-house.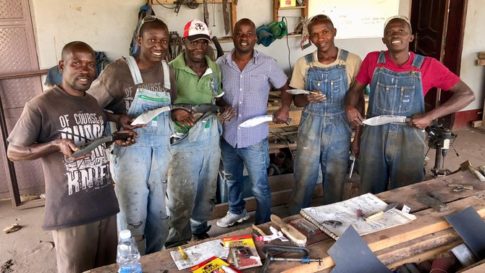 In fact, virtually every element of a Bamba Forge is done by hand, in the old-fashioned custom ways. "We run charcoal forges because we cannot get coal there," Troyer continues. "For the first four years, we used an angle grinder, files, and sandpaper exclusively." But things are growing and changing, with the help of other knife makers. "Jake Hoback and Northridge donated a grinder to us and the guys were blown away by it."
And Troyer wants to grow it in other ways too. Currently, there is a single forge, staffing between 8-10 men at any given time. "We have many people begging us to allow them to come," Troyer notes. To address this, he has conceived of a new 'Train the Trainer' model. "The best guys will become the trainers and then we can handle more people," explains Troyer. And of course, more people means a need for more space, too. "We are planning a second forge in Uganda and hope to see that starting next year. We will also be looking for more blacksmiths and knife makers who would like to help us teach in Uganda."
Currently, Bamba Forge has a funding project open, with the goal of obtaining more charcoal for its next year of knife making. Not only does a donation make a huge difference in an up-and-coming, one-of-a-kind knife shop, but it enters you into a drawing to win one of four different custom knives – one made by each of Troyer and his three fellow S5E37 Forged in Fire competitors.
It's been a difficult year for everyone but if you have some cash to spare you can make a donation here.
This story was reported by Knife News