KA-BAR Becker Kephart
The long-awaited KA-BAR Becker Kephart is here. Designed true to the original knife created by Horace Kephart, considered the father of modern day bushcraft, the BK62 is made with 1095 Cro-Van steel and walnut handles. To learn more about Ethan Becker, Horace Kephart, and the KA-BAR Becker BK62 Kephart Knife watch our video on the BK62 below.
Specifications:
Item Number: BK62
Manufactured: USA
Overall Length: 9.688′
Blade Length: 5.125′
Blade Width: 1.25′
Bulk Weight: 0.40 lb
Handle: Walnut
Blade Stamp: KA-BAR®/Becker
Steel: 1095 CroVan
Thickness: 0.158
Grind: Flat
HRC: 56-58
Sheath: Leather
UPC: 617717200625
Designer Information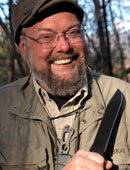 ETHAN BECKER
Ethan Becker is a man after our own heart. An avid outdoorsman who enjoys martial arts and hunting, Becker founded Becker Knife and Tool Corporation in the early 1980's to design the industrial-strength tactical and survival knives he'd always wanted for himself. What we love about Becker, other than his innovative designs, is that he spends so much time in the outdoors testing new equipment and designs. KA-BAR is proud to be the manufacturer of Becker Knife & Tool products – all brought up to date and approved by Becker himself.