The Gunny Knife from KA-BAR was designed by R. Lee Ermey, who was also known as "The Gunny." This is the last project he worked on before his passing in 2018. Created to be used in any and all terrains and situations, the Gunny Knife is a durable and sturdy fixed blade.
The large spear point blade is made from 1095 Cro-Van steel with a black coating that reduces visibility and helps with wear and tear on the blade. The blade design allows it to perform well with both chopping and slicing tasks and makes a great outdoor companion. The ergonomic handle is made from Webb wood and provides a solid grip for heavy use. The Gunny Knife is proudly made in the USA and comes with a leather sheath.
Blade Length: 9.75″
Overall Length: 15.31″
Blade Material: 1095 Cro-Van Steel
Blade Thickness: 0.187″
Blade Hardness: 56-58
Blade Style: Spear Point
Blade Grind: Flat
Handle Material: Webb Wood
Sheath Material: Leather
Weight: 15.02 oz.
Made in the USA
UPC Code: 617717253003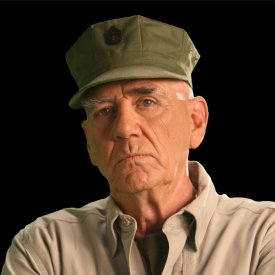 THE GUNNY
Marine. Actor. Knife Designer. Patriot. R. Lee Ermey, also known as "The Gunny", was a US Marine for 11 years. After his time in the Marine Corps, Ermey began his second career as an actor, most notably as the iconic Gunnery Sergeant Hartman in the movie Full Metal Jacket. Ermey was in over one hundred productions, including Apocalypse Now, Seven, Full Metal Jacket, Texas Chainsaw Massacre, and countless others. Ermey was active in supporting the US Military his entire life, visiting deployed soldiers and Marines deployed as well as around the United States. The Gunny Knife was R. Lee Ermey's last project before he passed away on April 15, 2018.